Artists
The Artground strives to be an epicentre to build bridges between artists and young audiences. Through our core progrmmes and events, incubation projects, artist sharing practices and dialogues, and professional development opportunities both locally and internationally, we hope to be a space for artists to inspire, explore, create, question and delight in meaningful aesthetic expressions.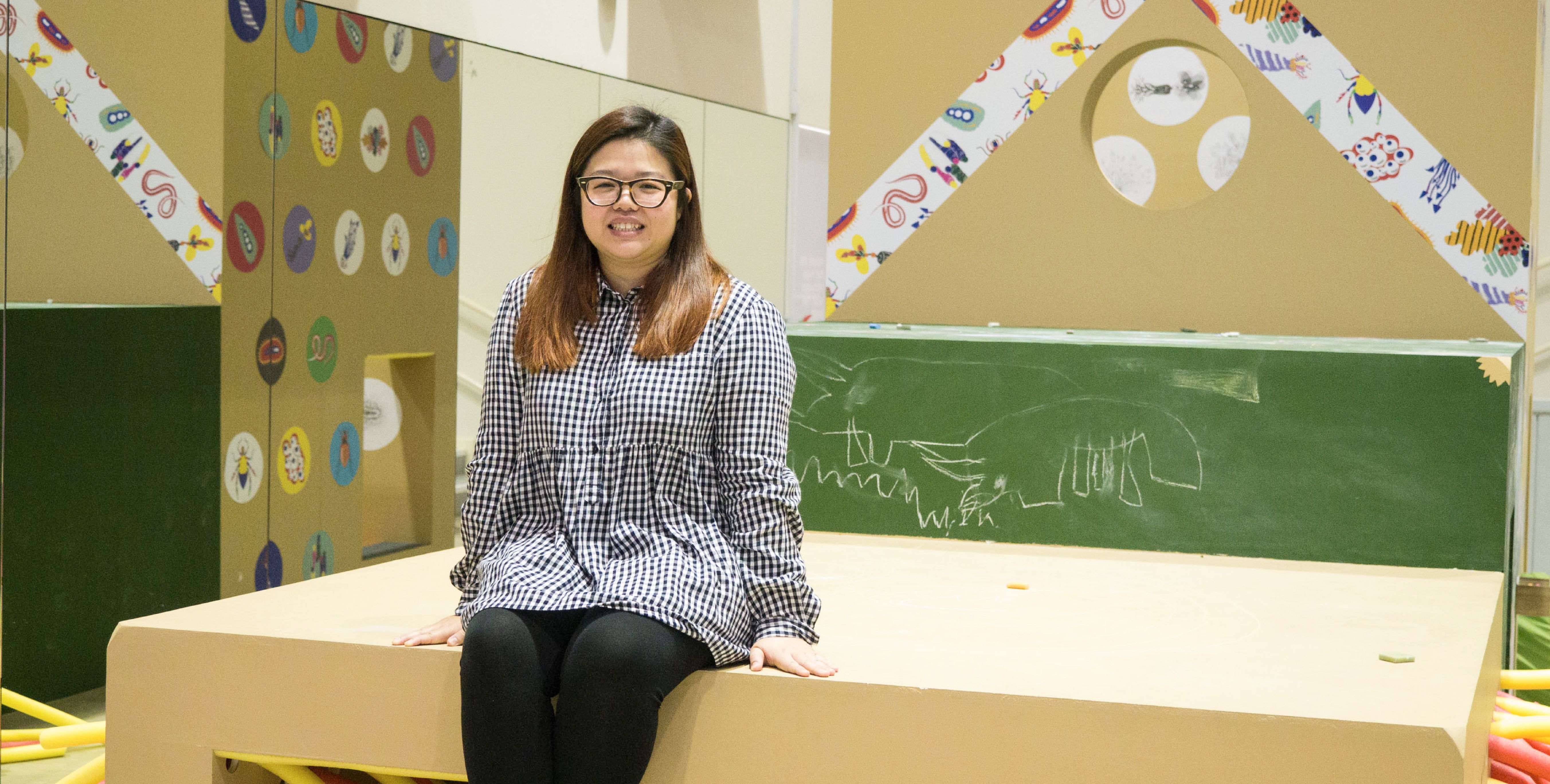 Poh Ya See
Down the Rabbit Hole
Poh Ya See is a mixed media artist whose practice weaves current social trends with personal experiences. Constantly seeking to put a smile on the faces of her audience, Ya See effectively expresses quirky and whimsical narratives in her art pieces through a pallet of cheerful colours and a medley of motifs.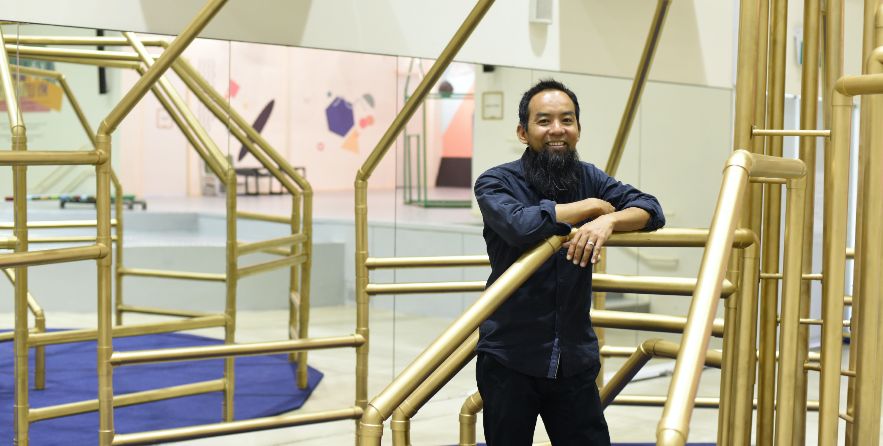 Shahrul Jamili
I S-phi with my Little Eye
Shahrul Jamili is a mixed media artist who uses printmaking and sculpting techniques in his work. Through the vibrancy of colours and the array of geometric shapes used in his art pieces, Shahrul endeavours to inspire young children's appreciation of the intricacies of designs as a maker of objects.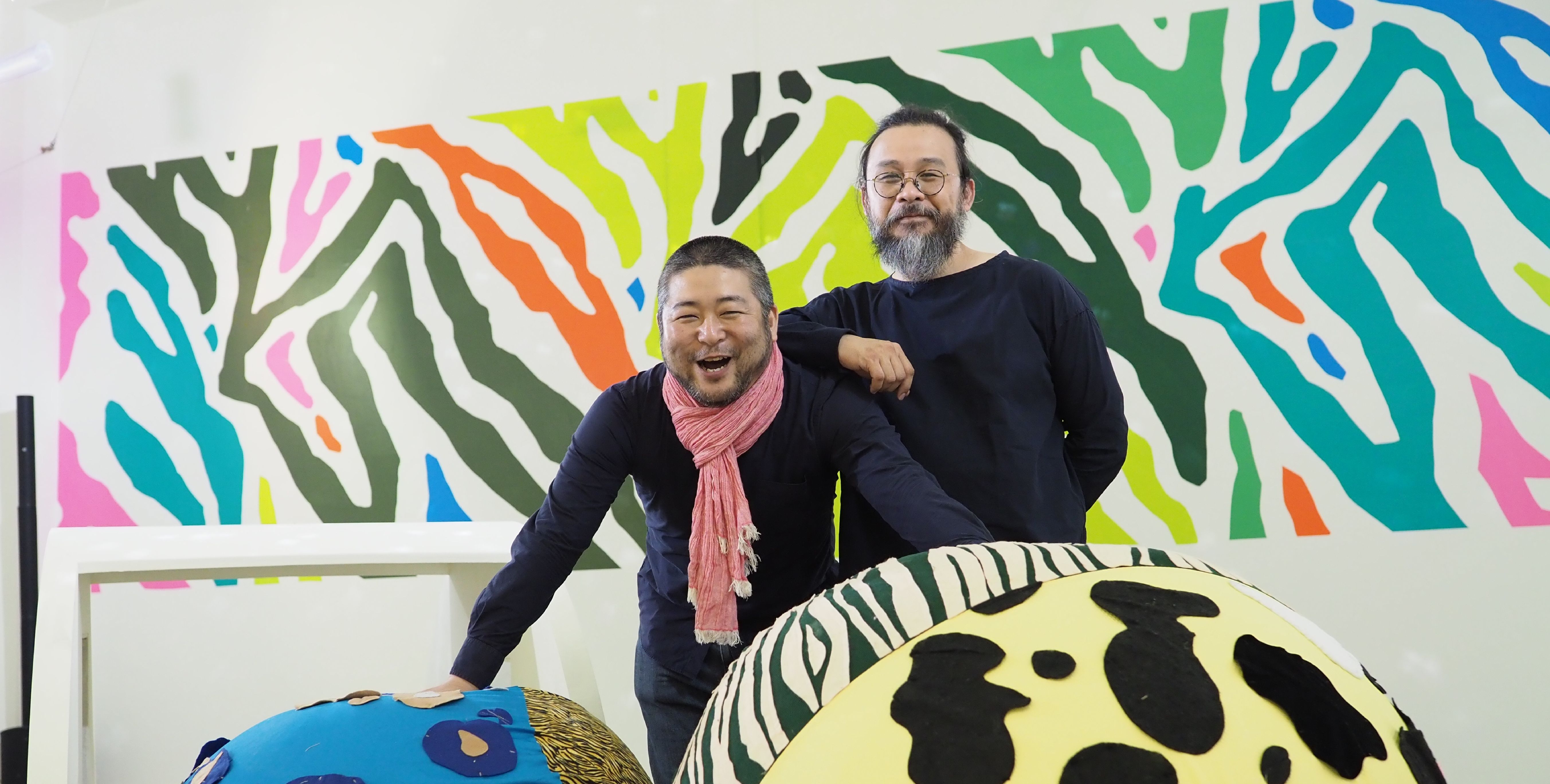 Daiya Aida
Rolling @ TAG
Daiya Aida, a Japanese artist, received his MA in Media Culture and Communication from Institute of Advanced Media Arts and Sciences (IAMAS) in 2003. He worked as a Chief Educator of Yamaguchi Center of Arts and Media [YCAM] from 2003 to 2014 and was the head of the media educational program research / development where he produced original workshops for YCAM that deal with media technology and media society. He curated "glitchGROUND" – a YCAM education exhibition (2012), and had conducted media workshops such as "Walking around Surround" at Spell on You exhibition, Media City Seoul (2012). In creating Rolling @ TAG, Daiya Aida was supported by his team comprising of Clarence Ng and Yushin Suzuki.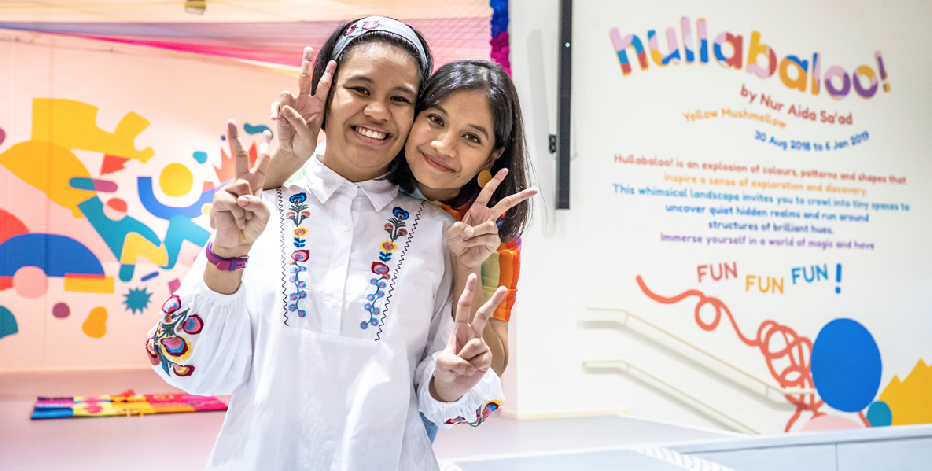 Aida Sa'ad
Hullabaloo
Nur Aida Binte Sa'ad (Yellow Mushmellow), a visual artist, draws inspiration from the expressive and colourful drawings done by her sister, Aisha, who is on the autism spectrum. She graduated with a Bachelor of Fine Arts in Visual Communication from the Nanyang Technological University School of Art, Design and Media in 2014, and has since worked with a variety of brands such as Starbucks, Uber and Red Bull. Many relate easily to Aida's work which reflect fun and interesting points of view from everyday observations and personal experiences. Aida is widely featured on various media platforms such as Berita Harian (2010-2018) and The Straits Times (2017) for her illustration, comics and ideas that bring the mundane to life.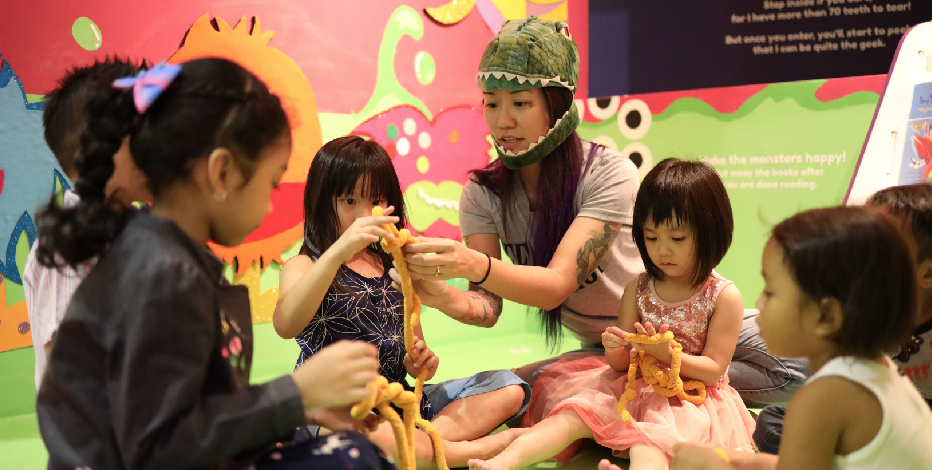 Adeline Loo
Wild Rumpus
Adeline Loo left her job as a paralegal to pursue her interest in fibre arts, and she seeks to create works which are immersive and textural. Adeline is drawn to personal experiences, stories, and practises craftivism to express herself. Working mainly with waste fabric, upcycled materials and other industrial detritus, Adeline is currently exploring sculptural processes with knitting and weaving techniques. She is also the founder of It Takes Balls, which seeks to challenge and redefine the traditional notions of knitting and domestic crafts. When not crafting, she can be found in Neil Gailman's world and is well liked by most cats.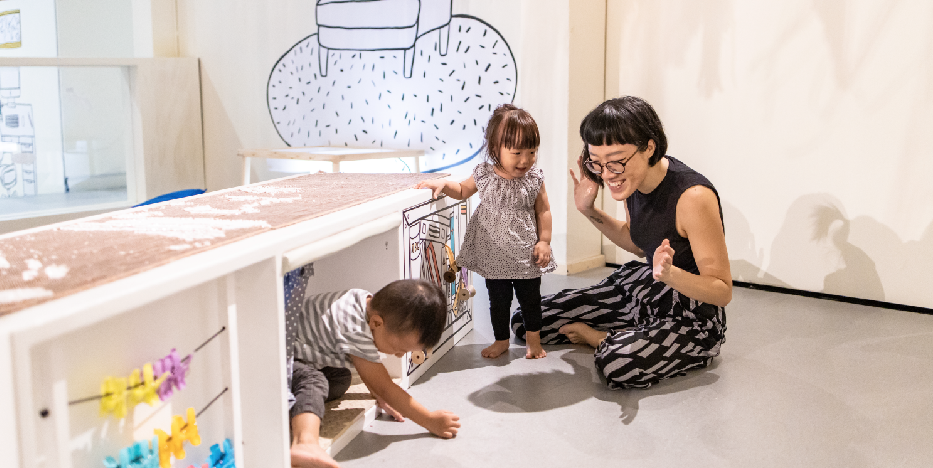 Gracie Chai
Happy Homebodies
Gracie Chai is a self-taught artist, maker and illustrator, who has also recently picked up a full-time gig with the running job title of "Meltdown & Tantrum Negotiator"; otherwise more popularly known as "Mum". Prior to raising children, she dabbled in textile fabrication and clothes-making and has sold her handmade dresses and creations in various parts of the world, with her work featured in international and local publications. When not crafting or working on commissions, she enjoys spends her time at home frolicking with her kids, which she documents under her Instagram handle @graciechai; mostly reshuffling furniture around the house to create for them their own private playgrounds or making simple effective toys out of otherwise overlooked household objects.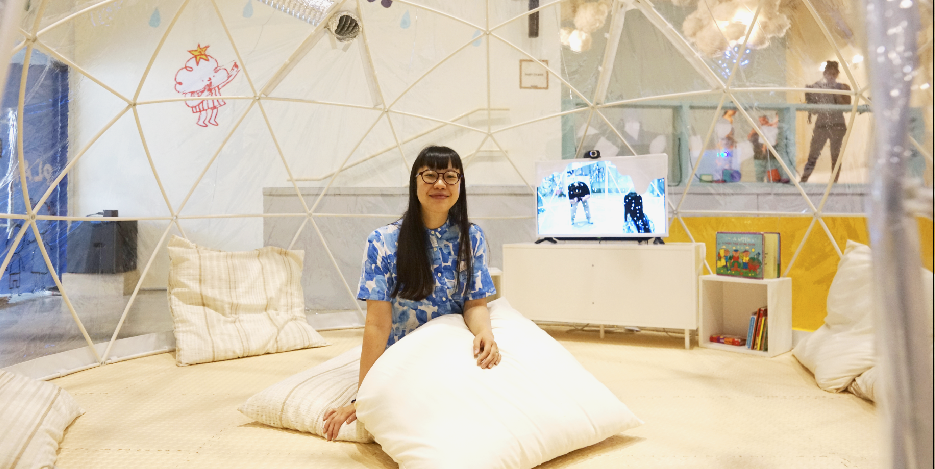 Ng Fongyee
The Curious Sky
Fongyee is a multidisciplinary artist working mostly with kids and technology, sometimes both at the same time. She believes in learning through play and experiments with various mediums in her art to activate dialogue between people, objects and spaces.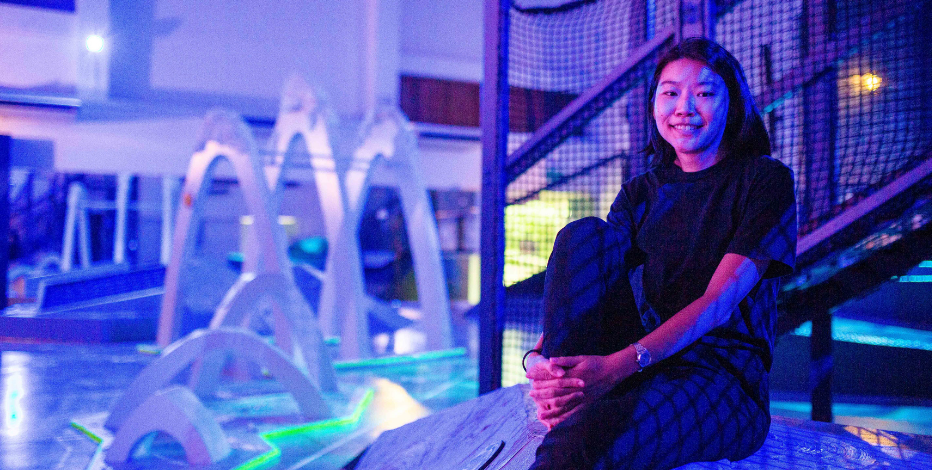 Wu Yanrong
Deep Sea
With a strong background in visual and communication design, Yanrong has worked at various design agencies – with the latest being an Art and Graphics Lead at WeWork. Apart from her day job, she has been commissioned by organisations and brands, such as Facebook, Resorts World Sentosa and Hermes to create large scale murals, designs and window displays.
Her works usually revolved around the theme which she is passionate about – the sea. Fluent in watercolours and ink painting, her signature broad and loose strokes have a way of defining the elements she paints while breathing life into it with each stroke.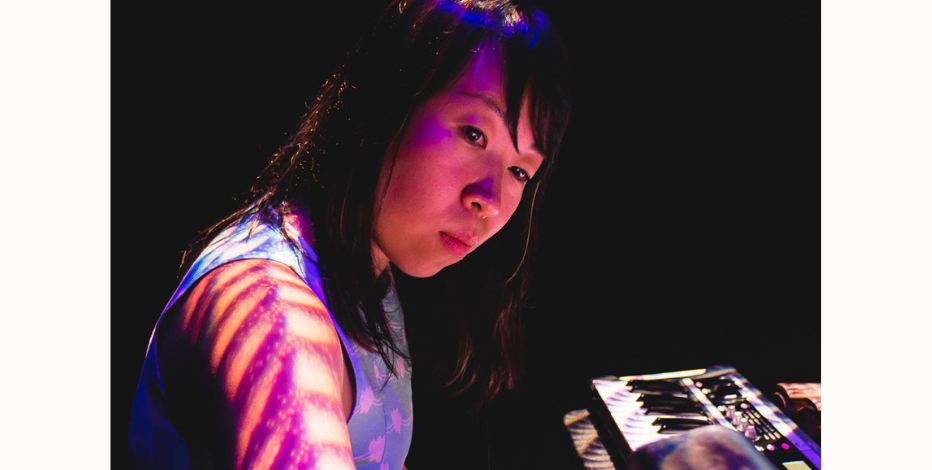 Artist in Residence, Stan (from 2017 - 2022)
Stan is a musician, educator and maker, interested in creating music that enscones traditional instruments in sounds that are accessible in today's society. IHer piano school, My Piano Room, focuses on teaching children as young as 3.5 years using special syllabus developed as a result of her experiences as a music educator.
Education and music are both important callings for her and whilst composing and performing music for theatre pieces for babies in 2017, she started wondering if she could create pieces for babies under 18 months that were simple in concepts and which used sustainable materials. She loves making things by hand and using handmade props or sets in her works makes her feel like she's incorporating warmth and love into these experiential installations.
Cardboard City
Cardboard City was the first work Stan developed as Artist-in-Residence at The Artground. Using primarily recycled cardboard and yarn, she has fashioned a space for pre-walking babies to explore, make sounds and develop spatial awareness.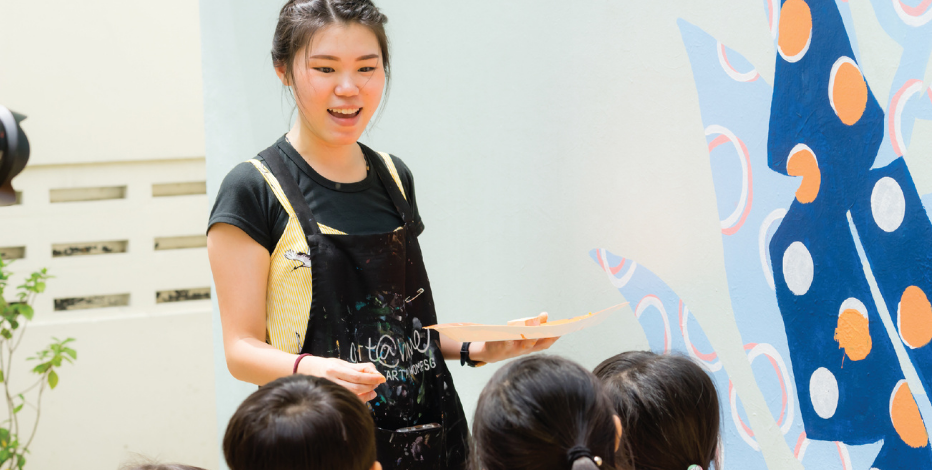 Art Away Studio
Art Away Studio is made up of a group of merry magical creatures, often disguised as art teachers, but once you get to know them, they wouldn't hesitate to share their magic and love for art with you! They mostly give private art classes at the student's house, but occasionally do workshops outside too – like at The Artground. Some of their favourites are Colour Scientist and Googly Doodly Monsters. You'll mostly see their Head Elf Cherlyn, who's also a watercolour artist, leading the workshops as their other elves are more low profile.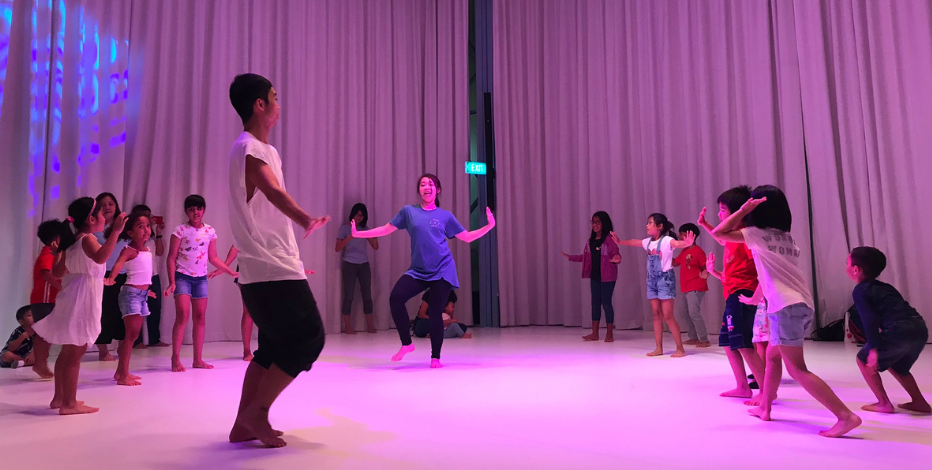 Apsara Asia
Apsara Asia Pte Ltd is an arts education service provider to schools for more than 10 years. In total, they have about 12 to 15 different arts education programmes (AEPs) that are offering arts engagement to exposure programmes to our local schools and students with the support of TOTE Board subsidy. Our commitment is to bring quality info-entertainment programmes to our children and youth through various AEPs that open the students to the World of Dance and Music. They work with different collaborators like musicians, sound artists and story-tellers to create interesting and exciting programs where dance and music/sound/stories meet in a creative and fun space!
In the past 2 years, they are also creating and conducting programmes for pre-schoolers and to work through dance/moves to create "bonding time" with parents and children. They also have a team of artists who are specialized in Special Needs and with them that they are bringing the arts closer to Special Schools and other environments like Down Syndrome Association and Pathlight.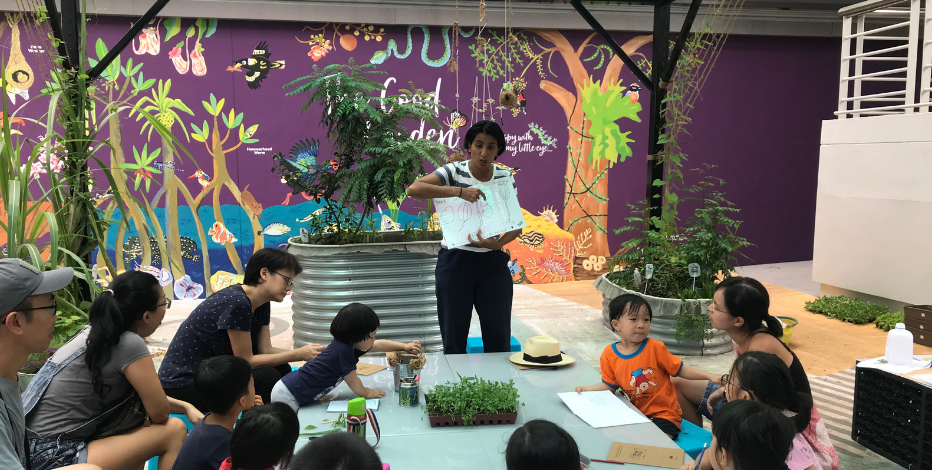 Cultivate Central
Cultivate Central is a social enterprise on a quest to bring about a cultural shift by making growing food regeneratively, working with soil, composting and reducing food miles second nature in the city. We've been building food gardens, composting with worms and running garden inspired programming for more than 5 years.
We turned our passion for vermicomposting into developing and delivering unique nature-based learning programmes for children and their educators.
Cultivate Central has worked on regenerating soil and worked with worms in a way that is accessible to children and their communities. Since 2017, we've reached over 4500 children through our gardening inspired programmes and partnerships with various organisations, schools, preschools and corporates.
Harng
Harng Foong crafts designed experiences that draws on his passion for patterns, prints, and textiles. His work often takes the form of experiential interactions and installations that encourage audience interaction. He is also the founder of Recyclofashion, a studio that advocates alternative materials for art, design, and fashion. During his pastime, Harng loves watching Madagascar the movie and thinks he's King Julien.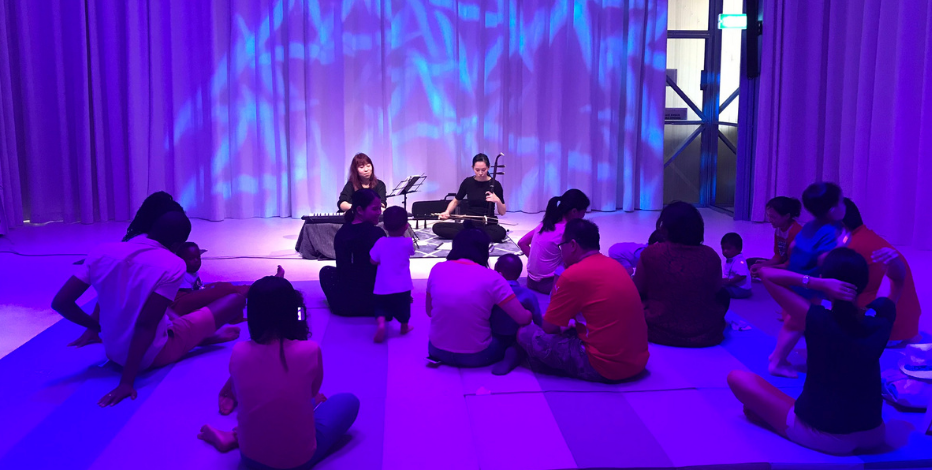 Kulcha Pop
A multi-racial, multi-ethnic music outfit showcasing unfamiliar sounds against a contemporary backdrop of Western instruments. Kulcha Pop has brought their own unique blend of fusion gamelan to audiences in China, Indonesia, and Malaysia. They have also been active in promoting the sounds of the Indian Bansuri, Middle Eastern Oud and Chinese Pipa / Er Hu through performances of their own compositions as well as putting a twist on Western Classical favourites in the oft-sold out Baby Beat shows at The Artground.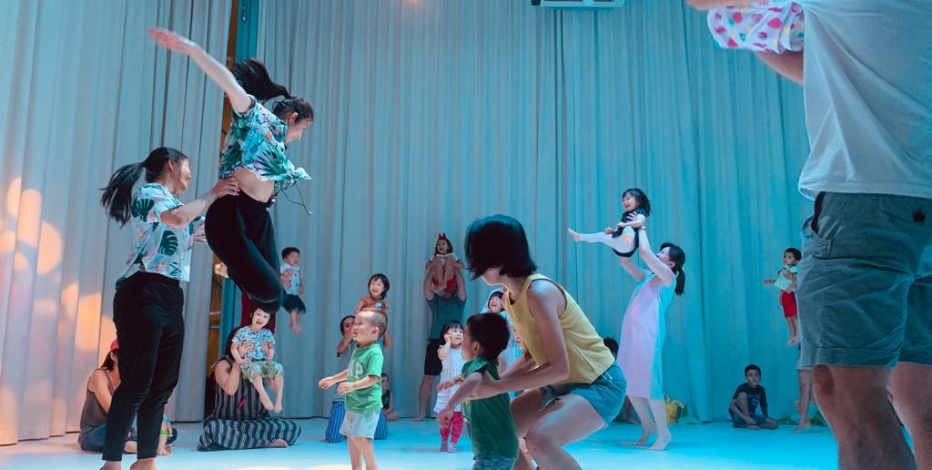 Rolypoly Family
Rolypoly Family is a team of dance artists who value body positivity and respect, gender equality and social inclusion. Led by artists Faye Lim and Bernice Lee, they run dance and body-based programmes and projects for diverse children and families, in partnership with organisations across Singapore. Their performance of Baby Baby Mama Bear (2017) explored nuances of womanhood and motherhood, and was presented at Maya Dance Theatre's In Bloom Festival and Fang Mae Khong International Dance Festival. The Artground has been an invaluable space for the development of their programmes, such as Rolypoly Family Dance Party, Dance Playground and Dance Jambo.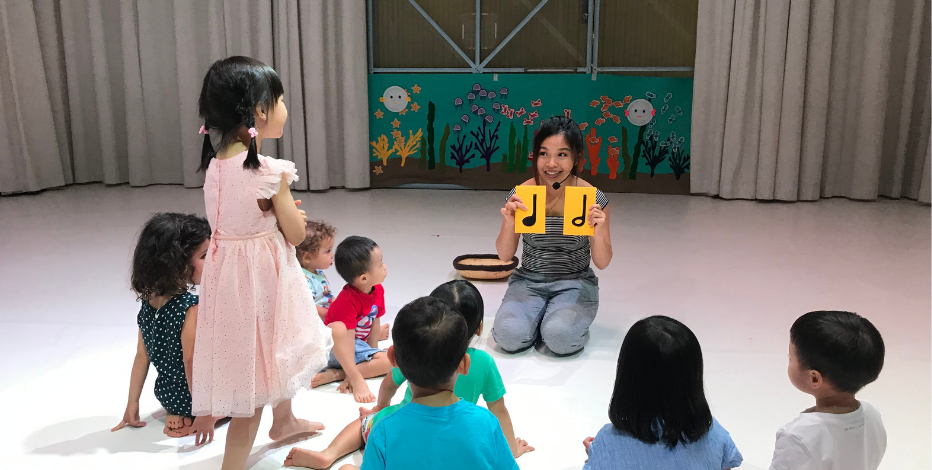 My Piano Room
My Piano Room is a boutique studio offering a specialized piano course for the very young beginner, from as young as 3.5 years old. All syllabus are created with the young child in mind and has been a successful method for our young students. At My Piano Room, we truly believe that learning through play is how our little ones learn best!
Our music outreach sessions at The Artground for children aged 2 – 4 years include the highly interactive A Tiny Beat and Craftermusician – a DIY music and movement jam session.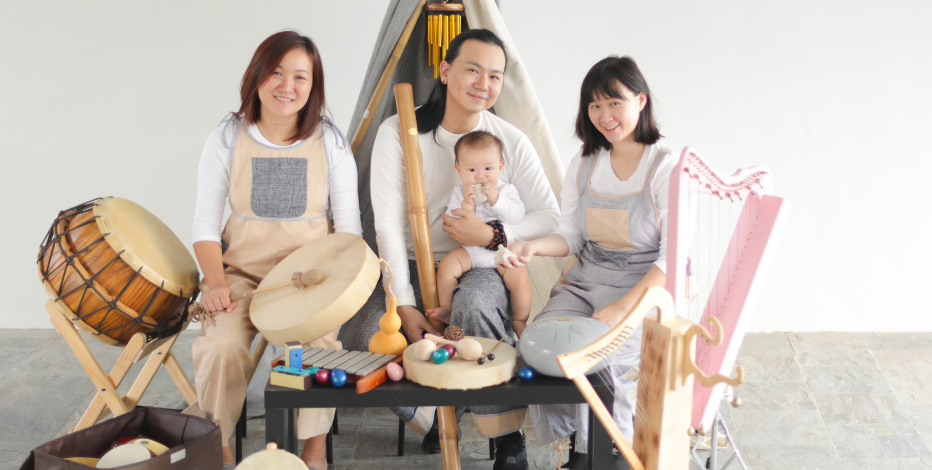 Hello Little Creatures
Little Creatures by SA is an initiative dedicated to the creation of a space for children in the early years to play and learn through sounds, sonic objects and ideas. With the firm belief that children derive meaningful experiences, construct interpersonal relationships, and manifest their creativity through play, Little Creatures produces performances and workshops that involve the young and the young at heart in immersive manners. SAtheCollective found it increasingly important to advocate for a generation of arts audiences who are aware. This is in line with Natalie's pursuits in early childhood music education, where she currently pursues a PhD.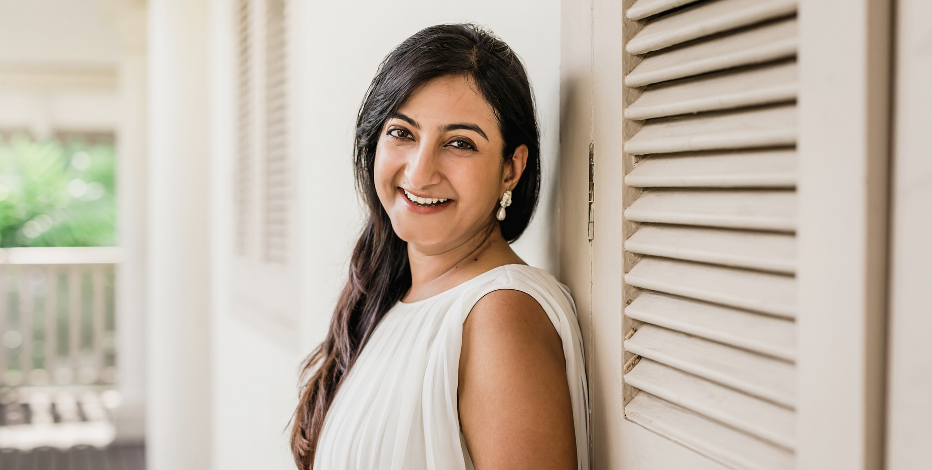 Ethos
Ethos: Exploring the Odissi Spirit is a dance collective of Indian classical dancers practicing the traditional classical form Odissi, founded by Soumee De, a dancer, teacher, choreographer. Soumee currently teaches Odissi at Apsaras Arts in Singapore and offers 'Dance-telling' programs at The Artground for children. When not dancing she works as a management consultant to create a better working world.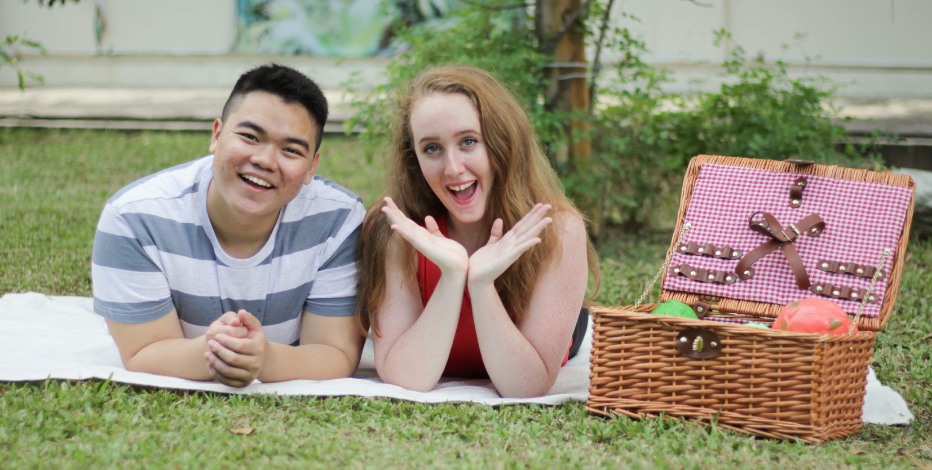 The Storytelling Centre Ltd
The Storytelling Centre Limited is a non-profit organization that advances the art of storytelling through performances, collaborations, artistic exchanges, mentorships, training and community outreach. Their focus is on ensuring the sustainability of the art of storytelling by nurturing emerging Young Storytellers. Helmed by Kamini Ramachandran, they are also producers of StoryFest: International Storytelling Festival Singapore. Terrific Tales is their signature storytelling programme especially for little listeners aged 3 to 7 years old held weekly at The Artground. Known for their highly interactive storytelling sessions, they believe in audience participation to create an inclusive environment for families.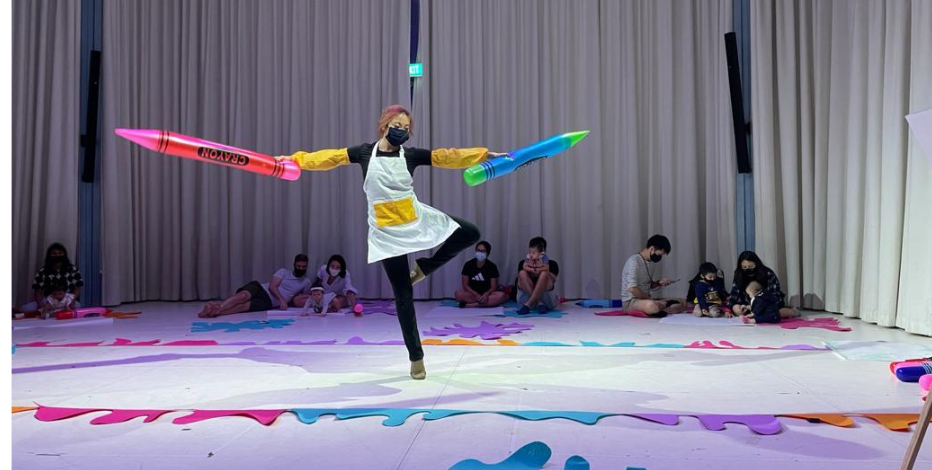 The Kueh Tutus
The Kueh Tutus are a collaborative team of creatives (dancers, a composer, a dramaturg) who dove into exploring dances and dance-based experiences for the young and very young. They have spent hours teaching, playing with or being children. Now they also feed a desire for discovery and unlock the imagination through works that are developed with children as an integral part of the creative process. Egged on by choreographer Melissa Quek, they combined their super-powers of productive curiosity in 2017 when their playful engagement with music and movement captured the hearts of parents and children alike.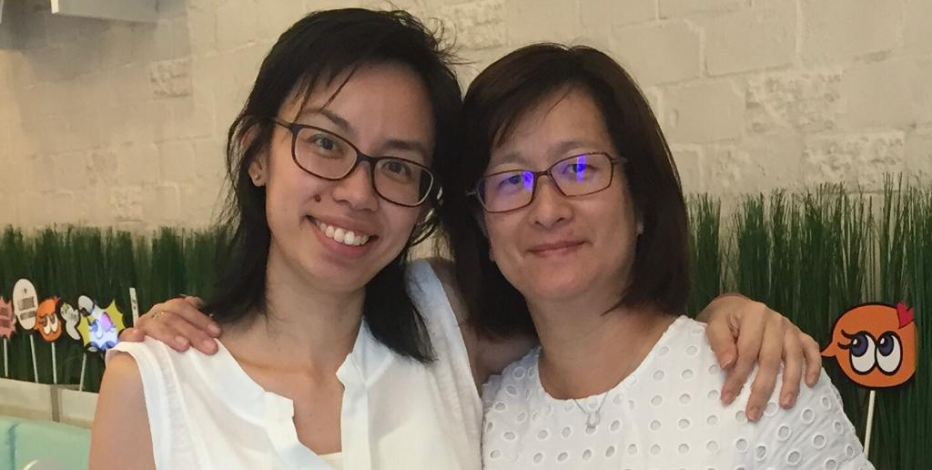 Wah So Simple!
The joy of creating comes when learning is made simple. This sums up why Mui Hong and Lee Sin brought WahSoSimple, a local craft outfit, to life! Fuelled by their passion in crafting, together with their experience in understanding consumers and marketing communication; they believe that crafting not only brings joy but it is also an amazing medium for everyone, regardless of age, to explore, learn and connect with people around them.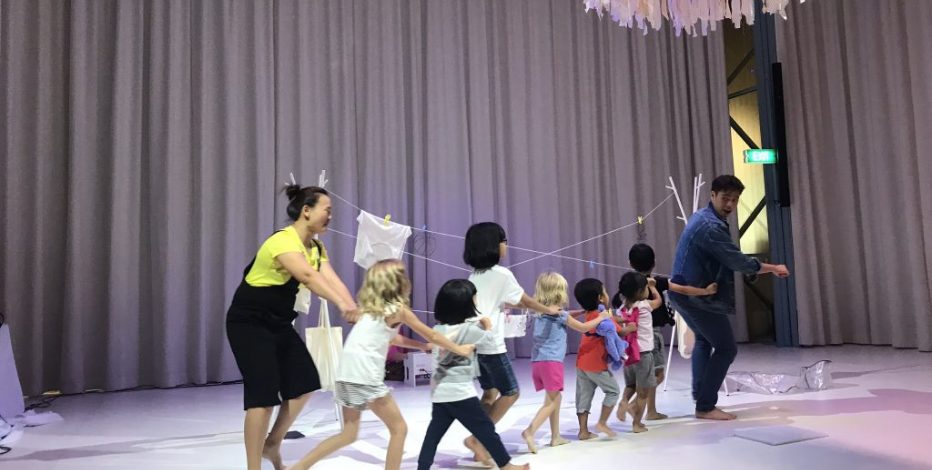 My SuperFuture Theatrical Productions
MySuperFuture is helmed by Singapore Young Artist Recipient, Ian Loy. The company was formed in 2009 through the constant encouragement of Ian Loy's mentors and close friends who believe in his attitude, creativity and work ethics towards theatre. MySuperFuture is a pioneering arts and early years organisation based in Singapore specialising in performances and creative interactions for focused age groups of babies, toddlers and young children aged 0-12 and the adults who care for them.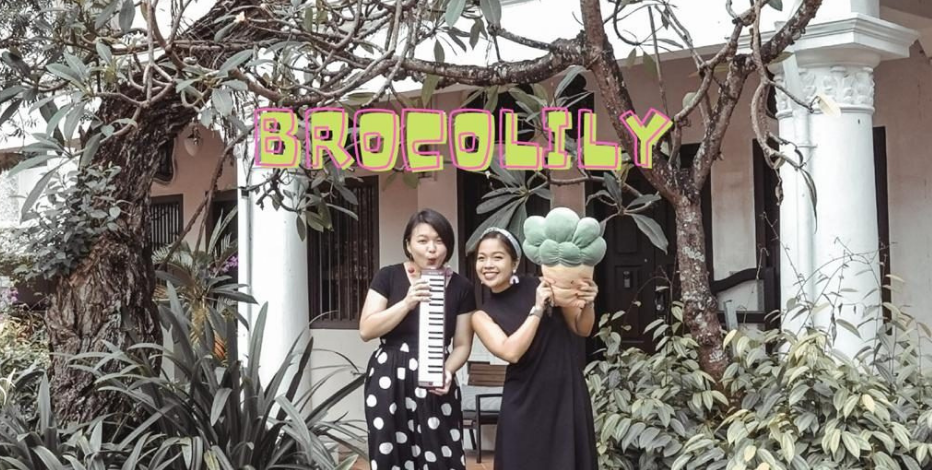 Brocolily
Formed in 2019 is made up of theatre makers, Cheryl Kjm & Zeeaura. "Brocolily" the name, is a fun combination of the nutritious veggie and the Lily flower; with a hidden meaning that represents their belief to create memorable works for the young that are both visually enticing and enriching. They embrace the quirks of everyone's imagination and aim to create a safe and fun environment for learning and parent-child bonding.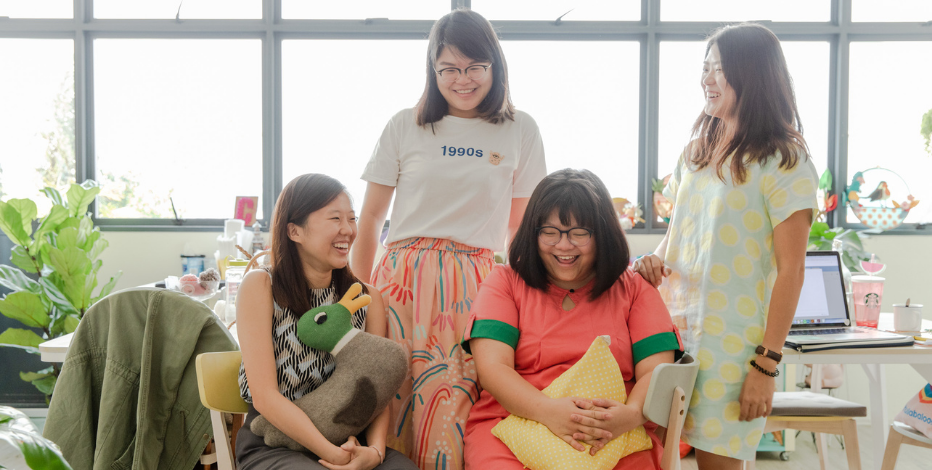 In Merry Motion
In Merry Motion is a craft and design studio that makes the everyday extraordinary. We organise craft parties, oversee craft projects, curate experiences, design celebrations, and transform public spaces.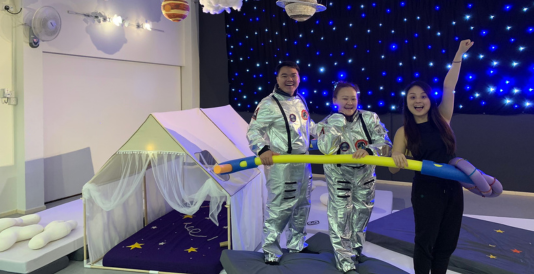 Zip Zap Zoom Collective
Zip Zap Zoom Collective is dedicated to creating arts experiences for young audiences. The collective was founded by 3 core members—Claris Tan, Elizabeth Loh, and Jeremy Leong. Actors by profession, the 3 members are also skilled in various performative art forms such as dance, music, puppetry, and storytelling for young audiences. The collective's mission is to create immersive arts experiences that encourage their audiences to imagine, investigate, and explore beyond the given.
Zip Zap Zoom Collective believes that every child possesses a unique voice and an inherently creative spirit; the collective aims to create arts experiences that encourage and cultivate those qualities. Come zip, zap, and zoom together with the collective! @zipzapzoom.collective