THEATRE
Eat Play (A GroundBreakers Work-in-development)
Vignesh Singh and Chew Shaw En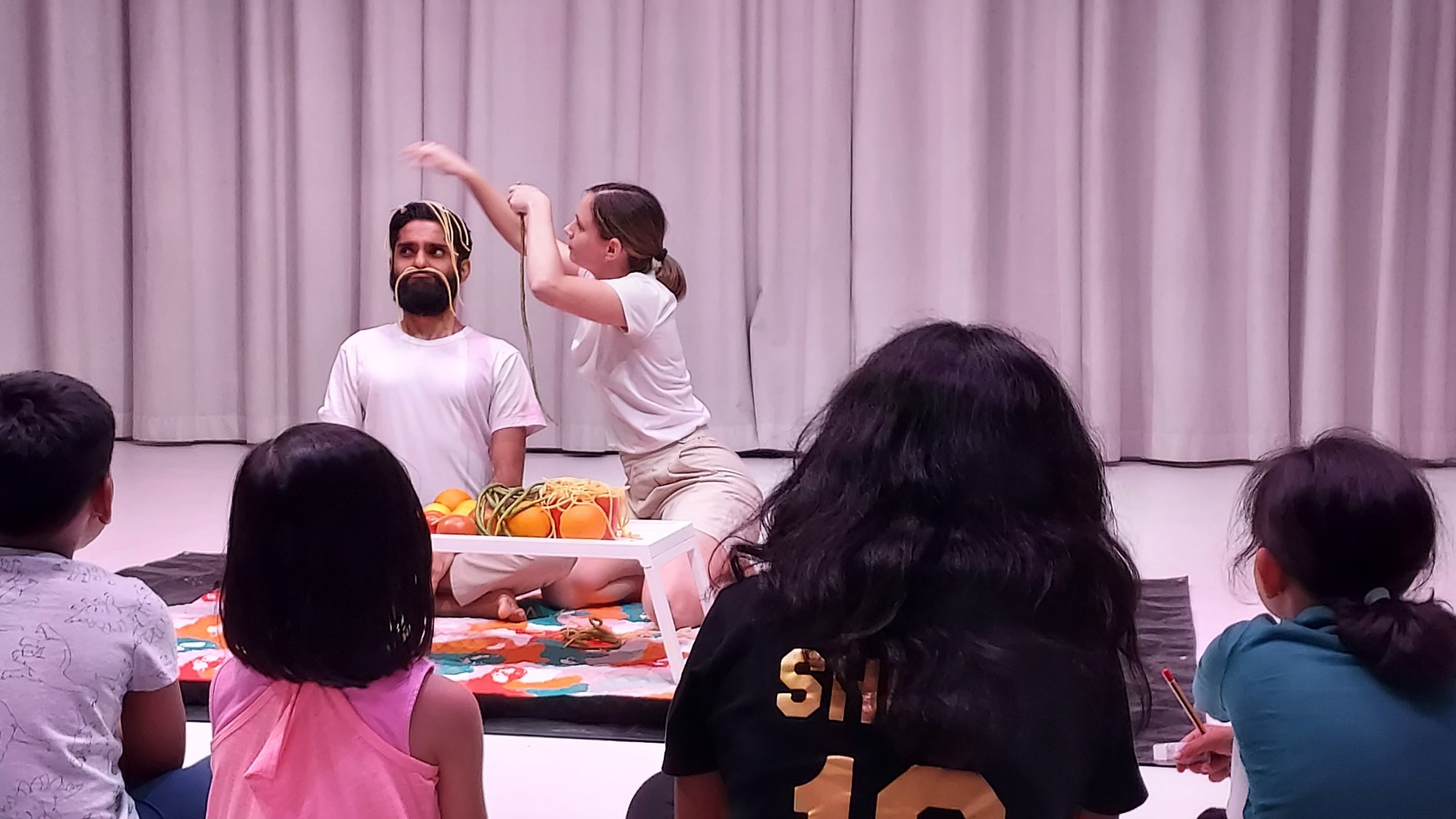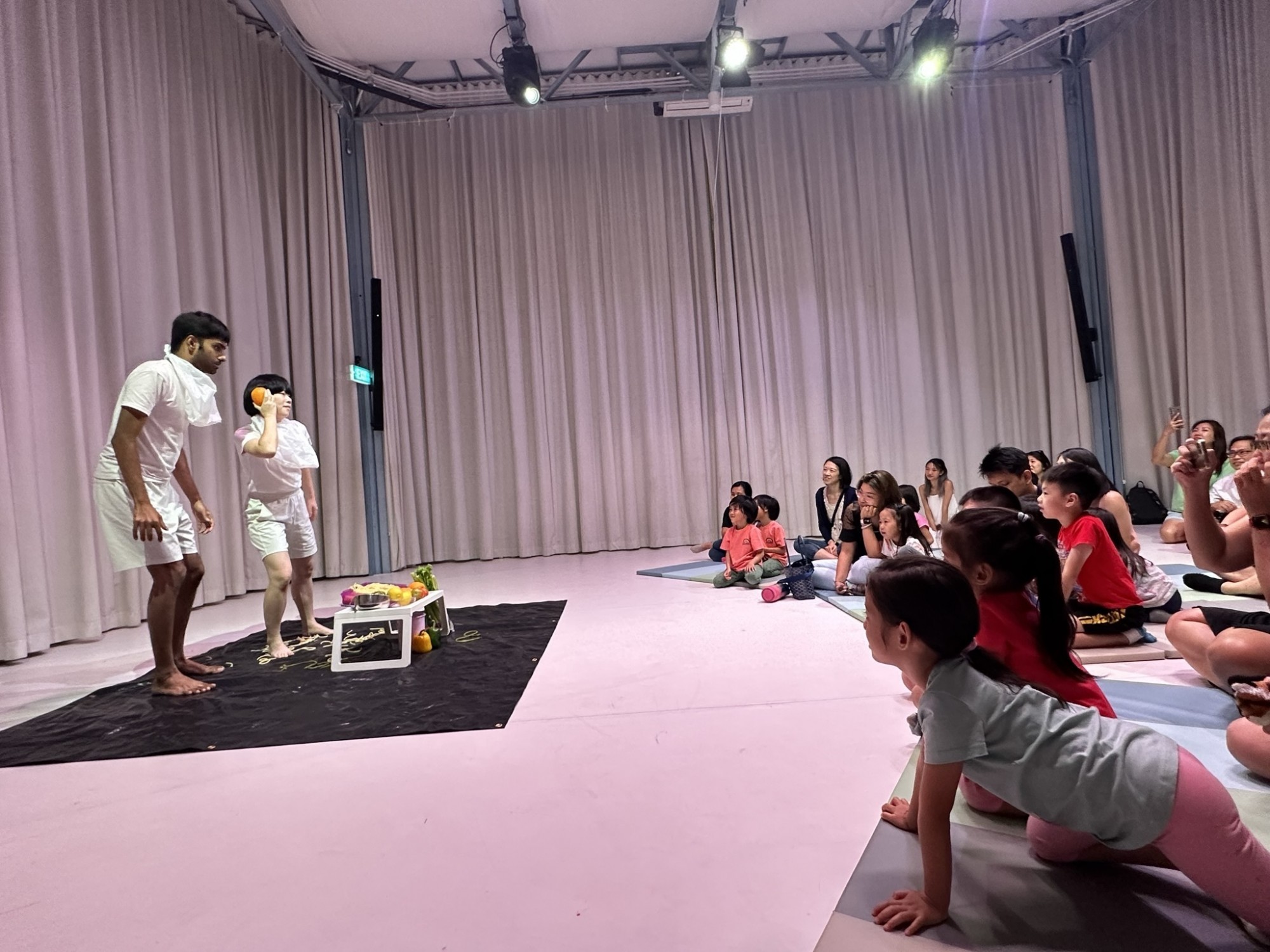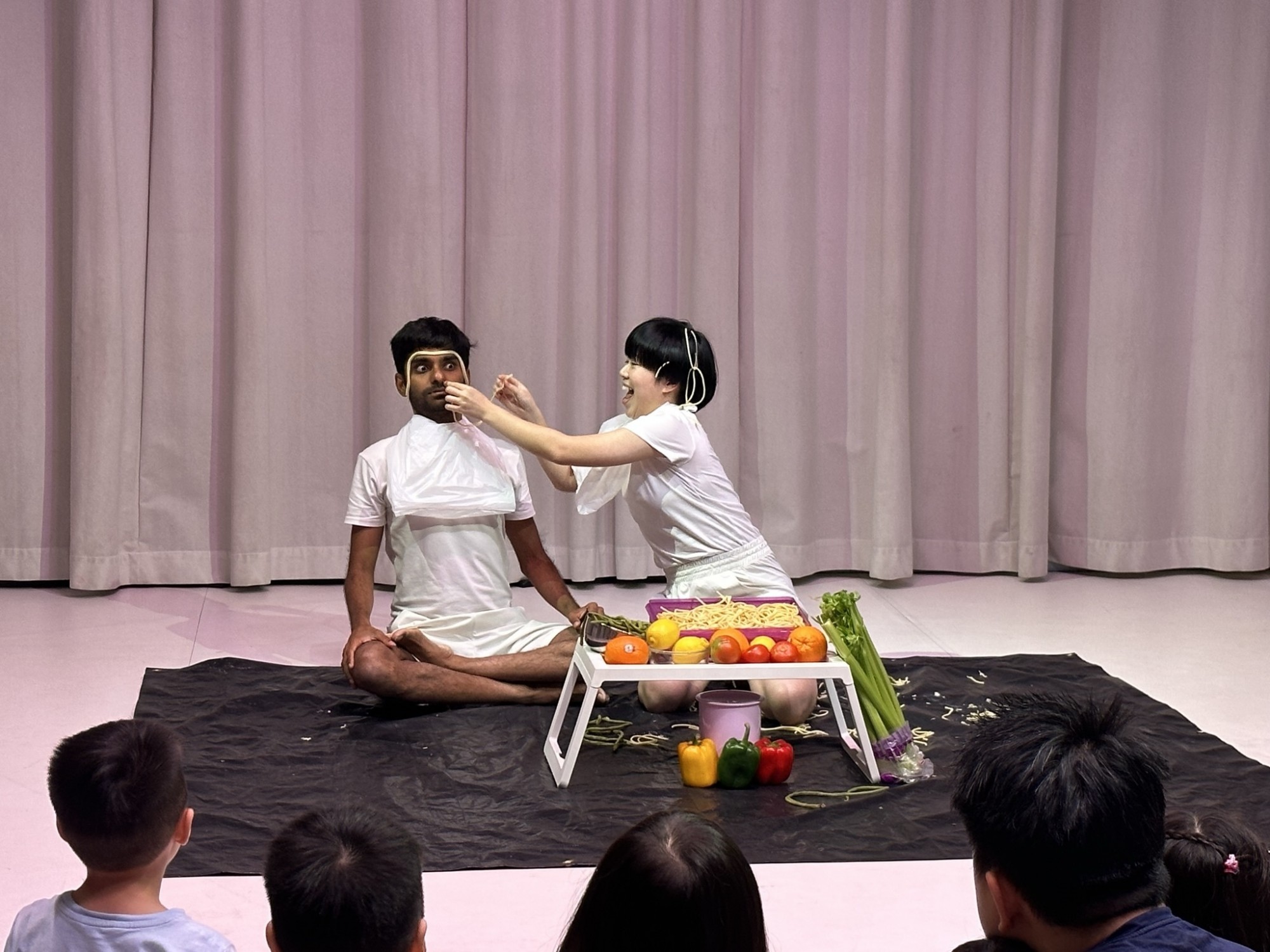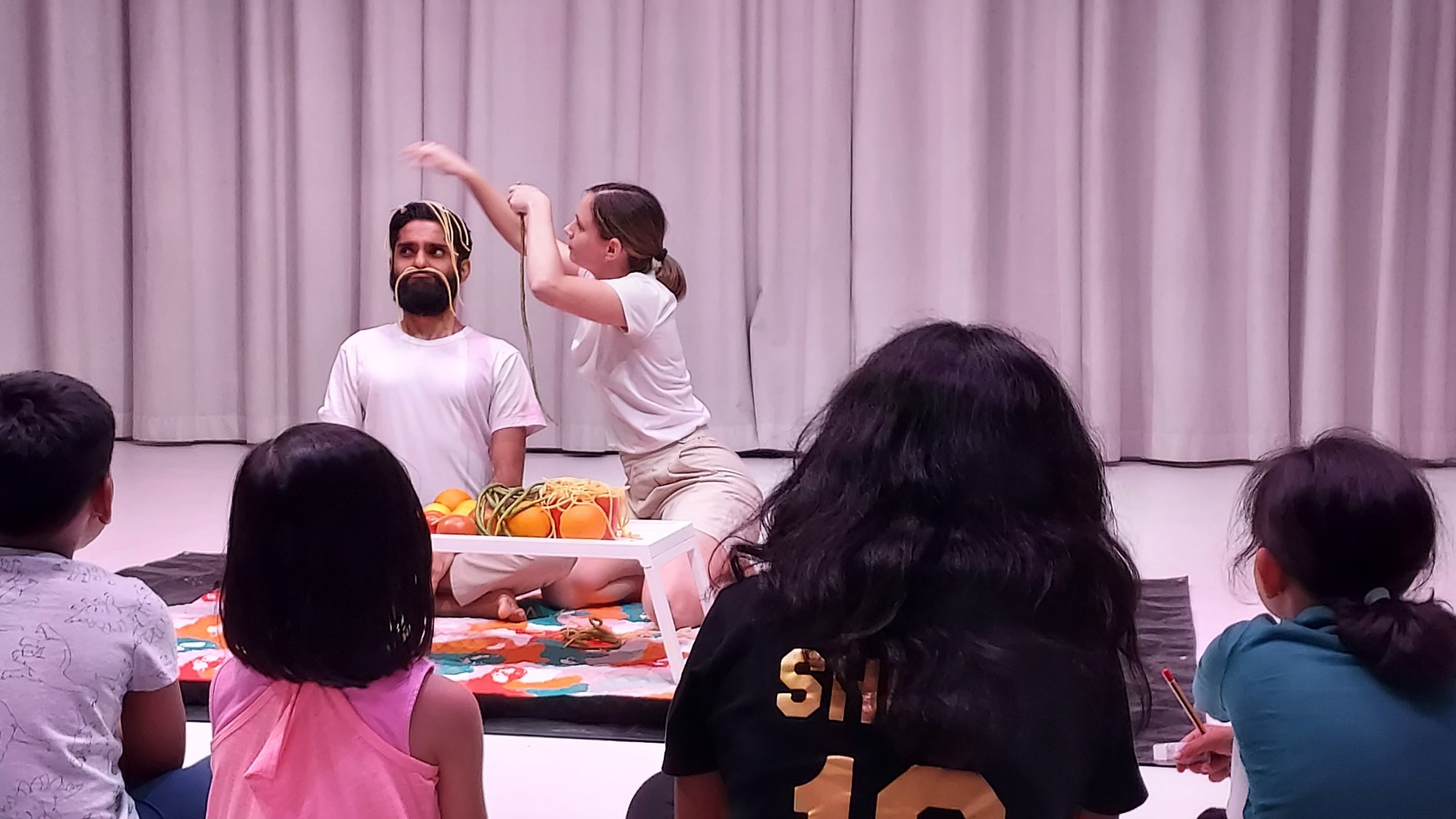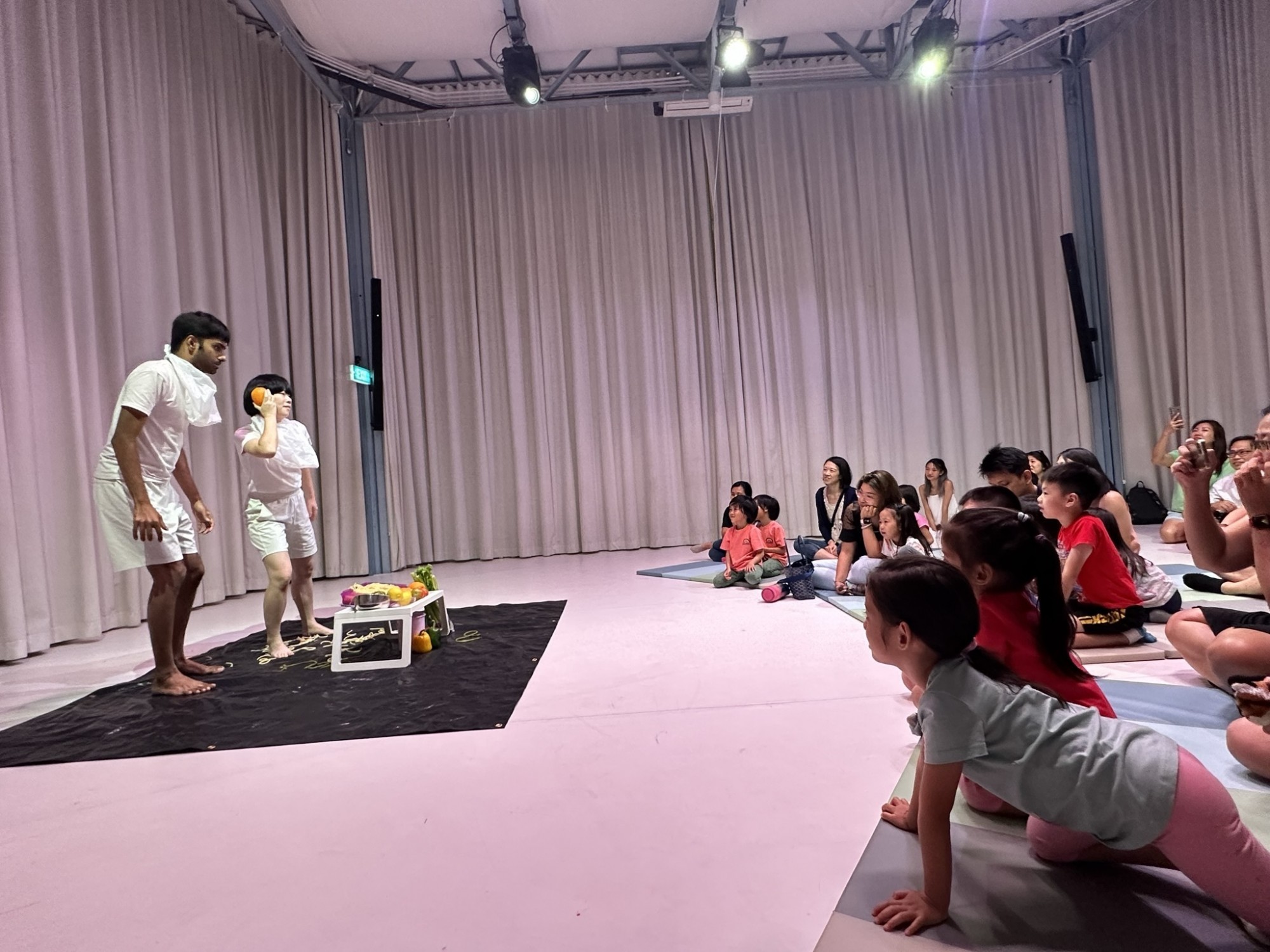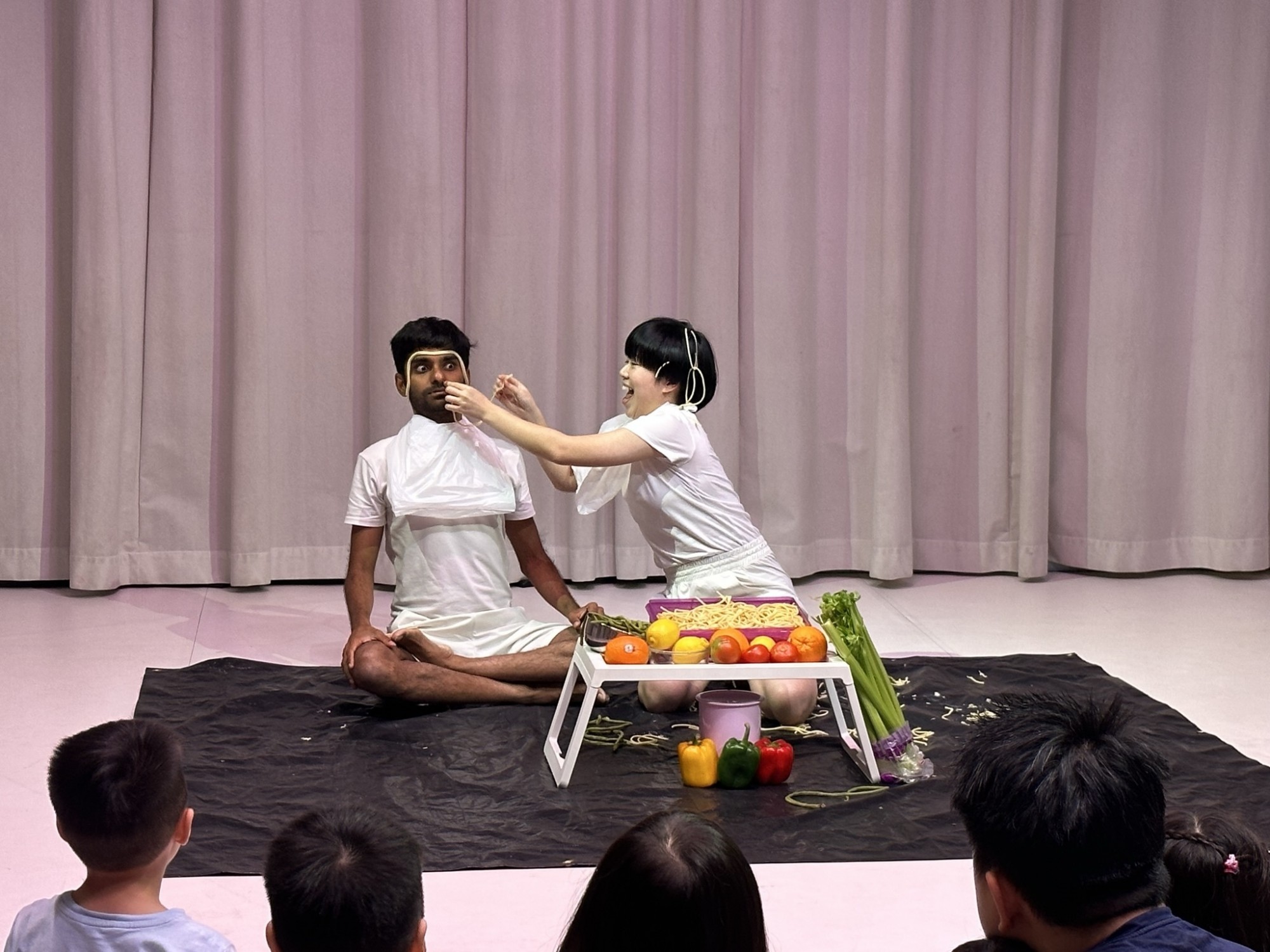 4 years and up
01 Oct 23 (Sun)
Programme Content
We have come to point in time where protection or over protection is a value that has won over many parents and caregivers alike . We buy into things like corner protection tables , protection helmets , air - tagging our child so they don't get lost , no climbing trees , no mud waddling , no touching insects , leashes for babies and so many more other forms of safety .
EAT PLAY is a performance that challenges this notion . Through this performance , we invite parents and caregivers to consider relaxing some of those boundaries in the interest of play , curiosity and experimentation .
This performance follows the journey of two characters at mealtime and the various antics they get up to as them attempt to tell stories with real food .
Please note that at the end of the performance there will be a segment where children and parents will get a chance to get messy and play with the food as well . For hygiene purposes , the food used in the performance will not be the same food used in this segment . Hence please come prepared with extra clothing and a towel , showers are also available within Goodman Arts Centre if you wish to access those facilities .
As this is a work-in-development performance, children and adults are required to provide feedback at the end of the session in an effort to help artist further develop the work. Photo and videos will be taken for archival and marketing purposes.
About the Artist(s)
Vignesh Singh is a Singaporean actor, theatre - maker and teaching artist . A recipient of the Trailblazer General Fund, Vignesh graduated with a Diploma in Intercultural Theatre (Acting) from the Intercultural Theatre Institute in Singapore. With over 15 years of acting and theatre-making experience, some of his notable theatre credits include, Oddsocks (Five Stones Theatre), Come Back Home (Polyglot Theatre), The Crucible (Toy Factory Productions), Perfecting Pratas (Sight Lines Entertainment) and Box (Pitapat Theatre, Malaysia).Vignesh's film/tv work has also been featured on major streaming services such as HBO Asia and Netflix. He is the Artistic Director of Translucent Bodies, a collective dedicated to theatre training and performance making that regularly conducts acting workshops for professionals/semi-professionals. Vignesh's interests lie within intercultural collaboration, naturalism, actor-training, physical and devised theatre.
Chew Shaw En is a dance artist from Singapore. Dance immersions and other platforms have led her to dance in Taiwan, Barcelona, London and Korea before she began formal dance training at Nanyang Academy of Fine Arts where she has worked with local and international choreographers such as Richard Chappell, Lucy Marinkovich, Mel O'Callaghan, Lee Mun Wai, Lim Fei Shen, Kevin Wynn and Ezekiel Oliveira. While on exchange to SUNY Purchase College she co-initiated 'The Happening' - a recurring sound, lights and movement exploratory event. Upon graduating in the summer of 2018 she has performed in M1 Contact Contemporary Dance Festival, as a project dancer for P7:1SMA, and had her choreography 'komastai' staged at The Esplanade. She just completed an extended internship at Frontier Danceland Company where she performed with the company for a season doing works by Deborah Nightingale née Galloway; Sascia Pellegrini and Low Mei Yoke. She is currently freelancing.
Ticket Details
Date: 1 Oct, 2023, Sunday
Time: 430PM - 5PM (With access to CLEAN UP OR ELSE! from 3.45PM - 4.30PM)
Duration: 30 mins
For ages 4 years and up
Tickets: Free Programme with $1 booking fee
See More
Things to note
Terms and Conditions for Eat Play (Please read carefully before booking)
This ticket gives you access to the 30-min scheduled Work-in-development PROGRAMME as well as access to EXPLORE: Clean Up or Else! 45 mins before your scheduled programme time.
This WIP Programme + Explore slot is designed for children 4 years and up to enjoy this work-in-progress workshop, as well as for our artists to gather feedback for a new work that they developing to further enhance this piece of work. Please make sure your child is of the correct age-specification before booking your ticket as entry will be denied into the space if they're not, and tickets will not be refunded.
This is a free programme with a booking fee of $1/ticket collected to cover 3rd party ticketing fees. If you are unable to make the Programme for any reason (including covid-related matters), please transfer your tickets to another child within the same age stipulation. No cancellations and refunds are permitted.
There are limited tickets for this work-in progress workshop, so please book your tickets considerately.
The session will be recorded during the programme for archival, marketing and social media purposes. By booking, you will be giving photo and video consent. The artist will also be seeking feedback from the attendees after the session.
Non-slip grip socks are mandatory for everyone (except pre-walking babies). Socks will be available for sale $3/pair for those who do not have them